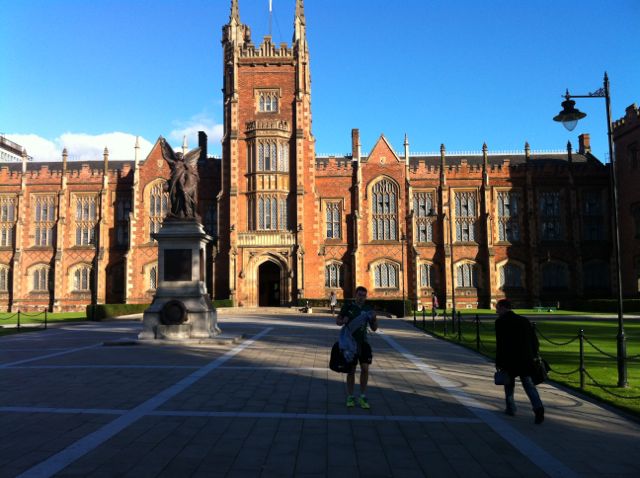 Over the next couple of days I'll be at Queens University Belfast to do two things: to kick off a new sustainability-themed student project, and to run a curriculum development session with staff on the theme of embedding sustainability.
Queens commissioned Think Up to design a sustainability-themed project for first year students. With this collaboration we plan to test three things: the idea of using a project early in the course to introduce the 'basic building blocks' of sustainable design; how this project can be used to introduce a topic that other teaching staff can build upon in later modules; and how a virtual learning environment (in this case Our in-house platform Student Studio) can be used to facilitate a better link between universities and industry.
Basic building blocks
Principle Two of our report Embedding Sustainability in the Undergraduate Civil Engineering Curriculum is to 'establish the basic building blocks early on in the course'. Using Bloom's Taxonomy as our theoretical basis, the higher order cognitive processes needed for sustainable design (analysis, assimilation, creation and evaluation) are founded upon the more basic cognitive processes (knowledge of, knowledge that). To enable students to make better judgements in the field of sustainable design, we need to establish the basics that will help them make those decisions.
The basics are widespread, and include: common terms and definitions; principles of simple analysis techniques; materials; exemplars. Communicating this material is not a great use of class time. The project that we are designing will provide a context within which the students can start to establish these basic building blocks.
Project brief
Student are asked to work in groups to answer the rather open-ended question, how sustainable is Titanic Quarter (a large new mixed commercial-residential-cultural development in Belfast)? To help them, we have suggested seven axes for investigation based on the twelve objectives for sustainable development on the Olympic Park. For each axis, we have suggested aspects of the development to investigate, analysis tools and techniques they might use, and technologies they should find out more about.
Over the coming week, students will go on a fact-finding tour, do online research and try to speak to people who know about the site. Once they have gathered their data, they need to agree as a group how they are going to answer this question. The task is deliberately designed to provoke debate, and to ask students to apply their judgement. We emphasise that there is no right answer, and what is important is the thinking process they go through.
To conclude the project, students will present their findings to other groups. In each pair of groups, one will the on the role of the developer, the other will take on the role of sustainability consultants answering this question. The students will choose which team they think have best answered-the question. That group will then present their findings to my colleague in the Useful Simple Trust, Dan Epstein, who was head of sustainability on the London Olympics.
Basis for our teaching modules
Our hope is that this project will enable other teaching staff to develop modules that build upon these foundations. Titanic Quarter is a development close to he Queens campus and it is likely to be under development for some years to come, so it makes sense to link teaching to reality by drawing on case studies from this project.
Using Student Studio
This project will be the second time that I have used Think Up's virtual learning environment Student Studio to run a remote teaching module in a university. The platform is used to provide briefing information to the students, to provide an online space for a learning blog, and a forum space for discussion posting questions.
The plan is that I will be in Belfast to kick off the project and give the students an introductory lecture. I will brief them on how to use Student Studio. I will then go back to London, but I will be able to track students' progress through the project remotely. Together with using Skype to deliver the final presentation, if successful, we hope this technique will demonstrate how industry can be connected to the teaching environment without necessarily having to be there all the time.