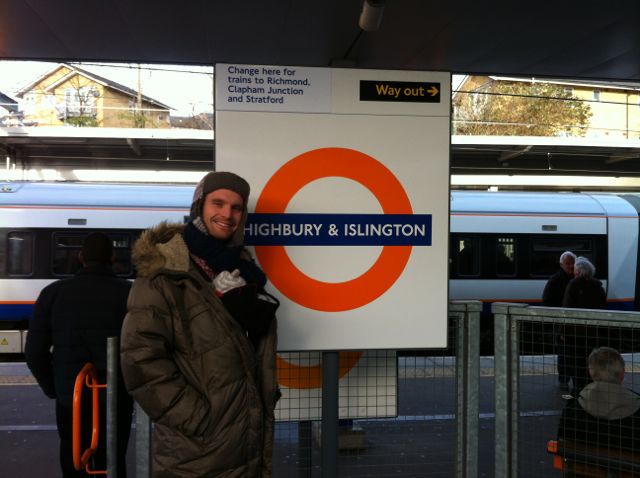 I feel like a bit of a wally standing here in the rain at Clapham High Street Overground station. There are many shorter ways to get me home, which is diametrically across London from here. I could for example slice straight through the middle on the Northern Line. But I want to take the slow circumferential route simply because for the first time, I can.
When I was a kid, waiting for the train to school, I used to look at the 'London Conmections*' map and think that there must be a way to join up all those bits of track to make a loop around the capital. Over the last few years, as part of its work to develop the Overground network, TfL has been investing in the missing links – the elbows – that make this possible. Today the final one, a section between Surrey Quays and Queens Road Peckham, opened allowing Overground trains to run from Highbury and Islington via the old East London line route round to Clapham Junction.
And so today, for the first time, it is possible to orbit London by Overground. I can't say I've been waiting for this moment for years. But I found it hard to pass up the opportunity to do the loop on its inaugural way. I even organised to have lunch with a friend who lives at the circle's southern extremity.
But I have to say no one around me seems that bothered. (Where's the bunting?) A man got on with a Christmas tree at Hoxton and rode two stops. A carnival of men dressed in animal onezees boarded at Clapham Junction and alighted for Westfield. But I doubt many of the people around me are going full circle. And of course that is not the point. (Although who can sniff at a 1 hour 45 minute tour of London's finest post-industrial landscapes for just £2?) The point is that the development of the Overground has changed the shape of London for me and countless other people within its locus.
London is a city that developed radially, with private rail companies building routes in straight lines out to the countryside to build new suburbs in which to house their passengers. Getting into two was easy – that was the point; but going round the edges has always been difficult. So for example a journey from say Forest Hill to Hackney – not so far as the crow flies – took well over an hour. On the Overground they are now 20mins apart.Now as I circumvent the centre of town, I am aware of how much closer far away places now are. And for me (and perhaps for the boy I saw at Peckham Rye taking a photo of the train I am on) that's the exciting bit: new London connections!
*I can't find a version of this map from the 80s, but
here
's the current London Connections map on the TfL website