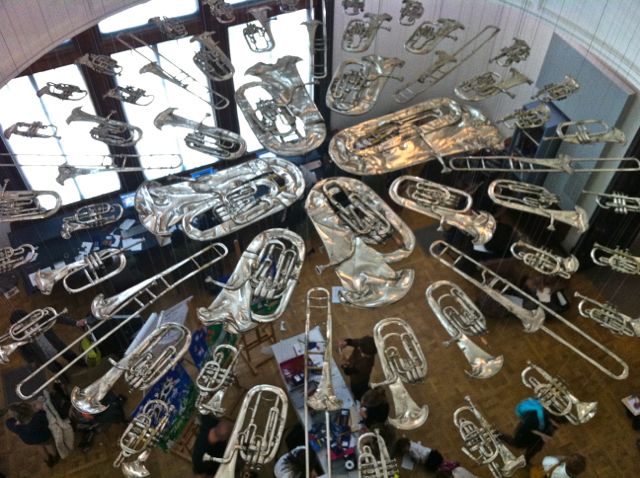 This afternoon M and I dropped in to the V&A to see what was happening at Big Draw, Big Make. The first talk that caught our eye was Speaking with Pictures, by Peter Ayres from Hetherwick Studio.

He was presenting in a small space to the side of Cornelia's Parker's installation 'Breathless' (pictured above). Peter showed how sketches can be used to communicate ideas during the design process, illustrating his talk with sketches from Hetherwick Studio's East Beach Café project. He also showed sketches from their Teeside Power Station project. (I had forgotten about this project, but it is timely to have been reminded of it as I think it fit nicely into the set of energy-generation learning resources we are working on at Think Up.). As much as his sketches from the office, I enjoyed see the others that he had made to illustrate all sorts of ideas, from fancy dress costumes to how to overtake in Sri Lanka.
I would call myself a devotee to the church of sketching (I helped out a  Big Draw event three years ago at St Pancras station). When I talk to undergraduate engineers about design, I often emphasise the importance of thinking through ideas with a sketch (we have a whole section on sketching on our Workshed site). And at Useful Simple we even issued with sketch books rather than lined notebooks. But I have to confess that these days I find myself filling them with notes, timesheet logs and reminders – rather than sketches. Peter's talk reminded me that there is so much pleasure and value in drawing. I promise to sketch more!