Overview
London – Harwich – Hook of Holland – Den Haag – Enschede – Münster
Six trains, two buses and a ferry.
Leisure
365 miles.
£90.
When I first imagined doing this journey I thought it would be a straight-forward case of taking the Eurostar to Brussels, a fast train to Köln and then a slower train to Münster. That is indeed is a feasible route but becomes expensive when you leave booking to the last minute, especially for a trip on the first day of the half term holidays, so I had to find an alternative plan.
Then I remembered the Dutch Flyer, a rail and boat service that goes from London Liverpool Street to Harwich, then on a ferry to Hook of Holland, and then, included in the ticket, to any station in the Netherlands. It's a great overland (and sea) route if you are heading anywhere in Northern Europe.
Londond Liverpool street to Harwich
I take two empty local trains to get me to Liverpool Street for the 6:30am train to Harwich, only to realise that I could have had an extra half-hour in bed had I picked up the Harwich train from Stratford on it's way out of town. Travelling this way is always an experiment though and you work out travel hacks like this as you go for use next time.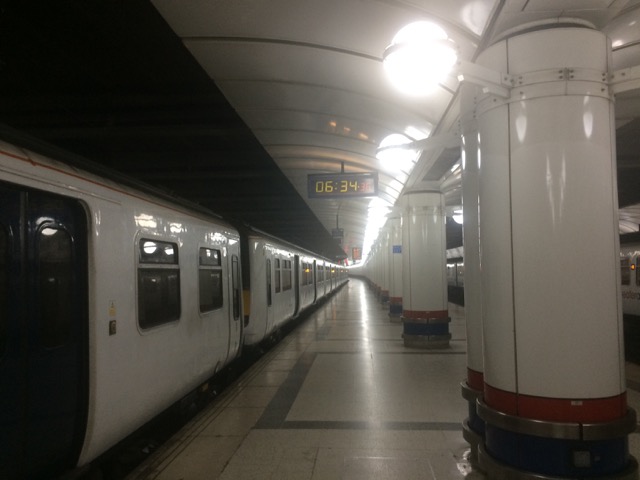 The Harwich train leaves from a dimly lit platform in the upper teens at Liverpool Street. It looks like any other shabby commuter train; nobody onboard seemed to realise they were on the first leg of the Dutch Flyer – or if they did they were concealing their excitement as clattered through the Essex countryside.
Darknesses gave way to an overcast morning. The train made a strange ticking noise when it stopped at stations.We reached beautiful Dedham Vale and as we rolled along the estuary the horizon on the other side was punctured by occasional steeples.
Harwich International is not as glamorous as it sounds, and it doesn't even sound that glamorous. But the station couldn't be more convenient for the ferry port: you climb the stairs from the platform and walk straight into the terminal building – integrated transport!
The building seems oversized – presumably designed for some long passed heyday of the 'Dutch Flyer'. It has six check-in desks but only one booth was open for the three customers I was among. We went on through passport control, with a similar booth count redundancy of five, and onto a bus that drove me 50m from the shore, up a ramp and onto the ferry.
Harwich to Hook of Holland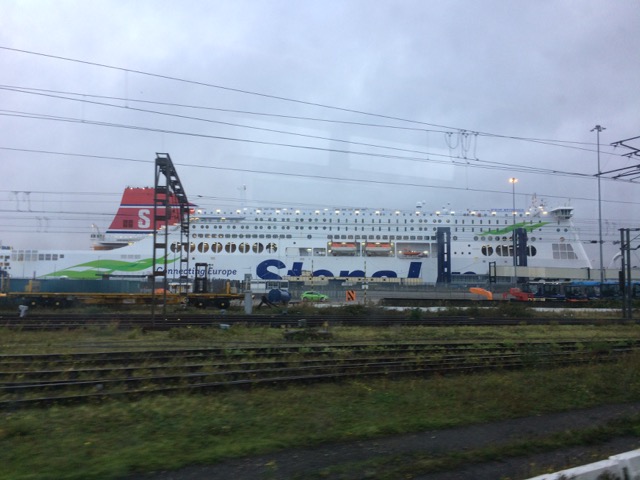 The boat trip is a good seven or so hours at sea. I installed myself in the lounge and settled in for a day of writing. Around me people were settling in for a day of drinking. It was 8:45am and the bar was open before breakfast was even being served. The onboard drinking was a bit alarming as the majority of passengers seemed to be drivers. It now struck me that they were getting their pints in early so that their bodies could process them before we got to the other side.
The sea between Harwich and Hook of Holland is a busy place. There are container ships everywhere. We are following another ship eastwards, and there is another on our tail in the shipping lane. And all the while we are avoiding the impressive arrays of wind farms in the sea. Storm Brian is whipping up in the UK and strong tail winds are sending big rolling waves past us.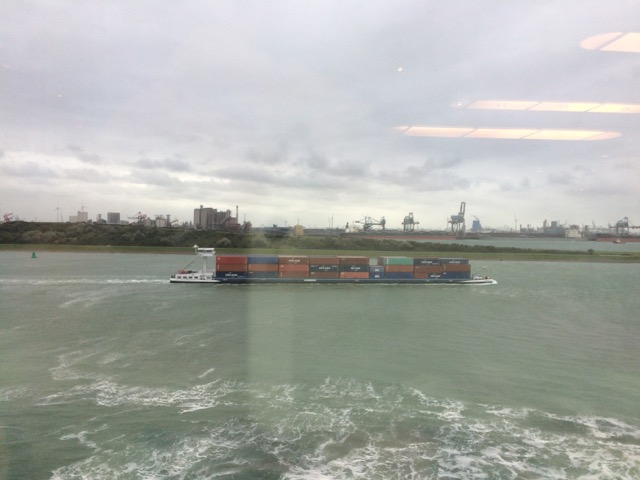 Eventually we arrive at the port at Hook of Holland, an industrial spot complete with flaring oil refineries in the distance. The ferry passenger terminal is slick and modern. It has an exhibition of models of old Stena Ferries in the waiting area that make me think of the Science Museum.
Crossing the Netherlands
Included in the Dutch flyer ticket – which is only £55 – is a rail pass to anywhere in the Netherlands. But before you can get anywhere you have to find the trains. A new rail link is being built between Hook of Holland and the nearby rail hub of Schiedam Centraal, and so I waited twenty minutes on the windy dockside for the bus.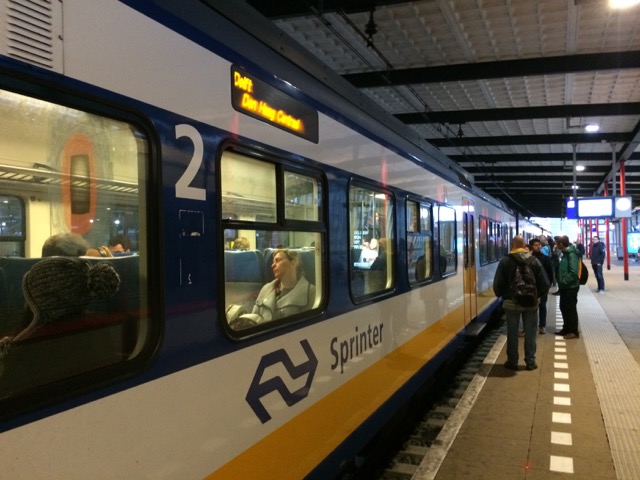 This leg of the journey is a cross-section through industrial flower production. There are acres upon acres of glass houses, some lit up, many apparently heated, filled with flowering plants, there are huge processing and packing factories, and then eventually we reach snazzy looking management buildings and distribution centres. I'll never look at a cut flower for sale again the same.
For me Dutch railways are about good modern design rather than high-speed, although they are fairly rapid too. The large stations I travel through are modern with a restrained elegance. Take Schiedam Centraal, from where I picked up a train to Den Haag. It has six platforms covered by an elegant roof that cantilevers out on both sides from a central spine. That central spine runs the length of the middle platforms, and while it necessarily an imposing structure because of all the load it carries, has large opening in it to let in lots light.
I change trains at Den Haag Centraal, a magnificent rail terminus, with towering steel columns that splay out at the top to support a distant roof. By now it is dark again, and as I take my next express train, I can no-longer pick out any features of the countryside I am travelling through.
From the border to Münster
At Enschede I change trains one last time. I am now on a Deutche Bahn service. Somewhere along this leg we cross into Germany, although there is of course no evidence of the border. The only difference is I can understand a small amount of the announcements, which I couldn't in the Netherlands.
Finally, at 22:45, some seventeen hours after I left the house, I arrive in Münster to be greeted by my host at the station. This has felt like a long journey it has also been very satisfying; I was able to get a day's work done on the ferry, and read the newspaper cover to cover on the train; and for the first time I feel I have a mental map forming of how the Netherlands and North West Germany relate to each other, and where major cities in this area sit with respect to one another. I look forward to discovering further this corner of Europe.