Overview
Six trains and one monorail
Leisure
709km
£130
Today I take my journey home from Münster to London via a different route from my way out. Outbound I came by ferry because it was cheaper; travelling back midweek I can just about afford the Eurostar. The route gives me the chance for a quick stop in Köln and the chance for an engineering detour via the Wupertaal suspended monorail.
Münster to Wuppertal
Münster is a beautiful town. I've spent the last few days staying with a friend and working on my book in the city library. The cities walls were removed to create a circumferential boulevard that is now tree-lined and a major thoroughfare for bikes and pedestrians. I walk this path one last time and peel off at the Hauptbahnhof.
I ride for twenty minutes on a quiet commuter train to Hamm. The flat landscape is filled with a mixture of fields and factories, with the occasional wind turbine. It reminds me of travelling up the Lea Valley north of London.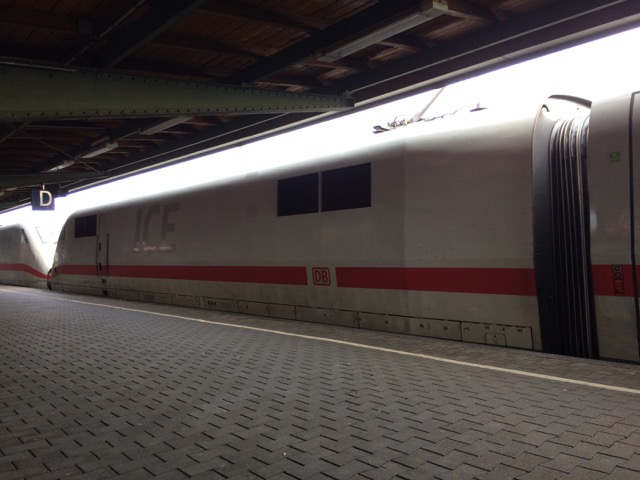 Hamm station feels in the middle of nowhere but its ten unloved platforms are busy with trains of all sorts coming and going. I get to my platform early and see one of the slightly older German high speed ICE trains arriving. Its bright white carriages are like hermetically sealed capsules. You can imagine this train is capable of zooming along the sea bed as easily as over land.
The ICE train is in fact two hitched together. I watch as the two are uncoupled and the front half pulls away. Just in time, I realise the back half is my train to Wuppertal, and I jump aboard. The land becomes more rutted and we follow an industrial valley that is well scored into the valley – it resembles  the valley of the Seine as it winds its way north from Paris to Rouen in Normandy.
My connection time in Wuppertal is three-and-a-half hours; that was deliberate to give me time to make an engineering pilgrimage to a highly unusual railway, the Schweibebahn, Wuppertal's suspended monorail. More details of that in a separate post.
Wuppertal to Köln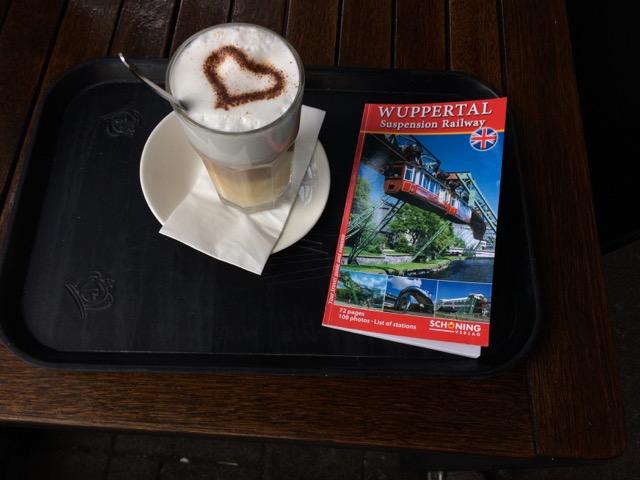 I'm blown away by the monorail – a great piece of railway engineering integrated into the city. With hindsight, three-and-a-half hours was a bit too long for my engineering excursion and I struggle to find the inspiration to explore the town further. It's nothing against Wuppertal: I'm just keen to get on. I wait impatiently at the platform for my next train.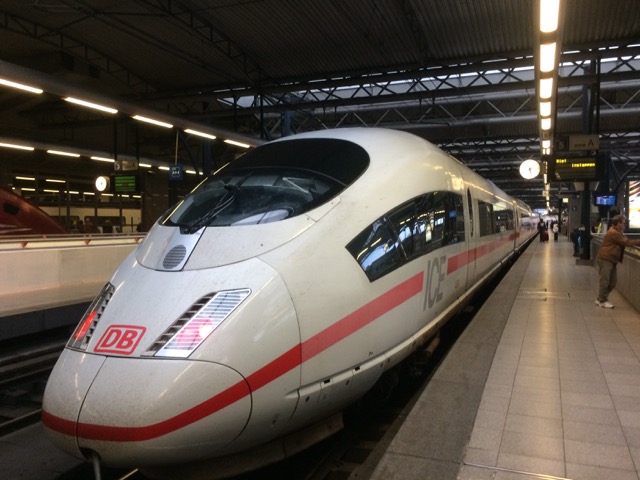 If the last ICE train I took looked like it could be amphibious, this train, a next generation edition, looks ready for space flight, with it's pointed nose and sleek black-and-white lines. It's a short twenty-minute ride to Köln and before I know it we are rumbling across the bridge over the Rhine. Köln Hauptbhahnhoff is covered by a wide arching roof; beneath, trains come and go from across Germany – and I see my first French train, the Thalys service to Paris.
I have fifty minutes between trains so I visit the magnificent cathedral which is surprisingly right next door to the station – almost on top of it. It's quiet pews are better than any waiting room I can think of.
Köln to Bruxelles Midi
I get on board another of the sleek new DB ICE trains and settle in. I don't remember much about this 2-hour leg as I slept most of the way. The day before long journeys I rarely sleep well as I worry about missing my train, and last night's wakefulness just caught up with me. As we slow down on the approach into Brussels I see some fairly grotty looking commuter trains and I realise these are the oldest trains I have seen since I left the UK. All the trains I've taken over the last few days in Germany or the Netherlands, whether high speed or slower, were well looked after. I am reminded why I don't ever get that excited about train travel through Belgium. I may however just be prejudiced against Belgian railways because they were responsible for putting the DB night train to Berlin out of business when they put up the transit fees they charge other countries for their overnight services.
Bruxelles Midi to London
Bruxelles Midi is an endless warren of tunnels where the light at the end never seems that appealing. I have an hour and a half before I can check in; I bought tickets for a later train because it would save me £50. The beer in the cafe is half the price of the tea, which is a shame as I've just decided to give up alcohol for a few days.
The journey flies by; before I know it I am back in St Pancras. As I walk down the long platforms I am struck that in all the stations that I have been through on either my outbound or my return journey in the UK, the Netherlands, Germany, Belgium and France nothing quite compares to the experience of arriving under the magnificent Midland Blue-coloured soaring arch of St Pancras station. A fantastic piece of engineering lovingly re-invented for a different century.