The port of Ouistreham is about 15km from the city of Caen. Journey today began with a cycle along the canal de Caen à la Mer. The canal is a major import terminal for tropical hardwoods from West Africa. And we could see the timber being stacked up on the opposite banks of the canal.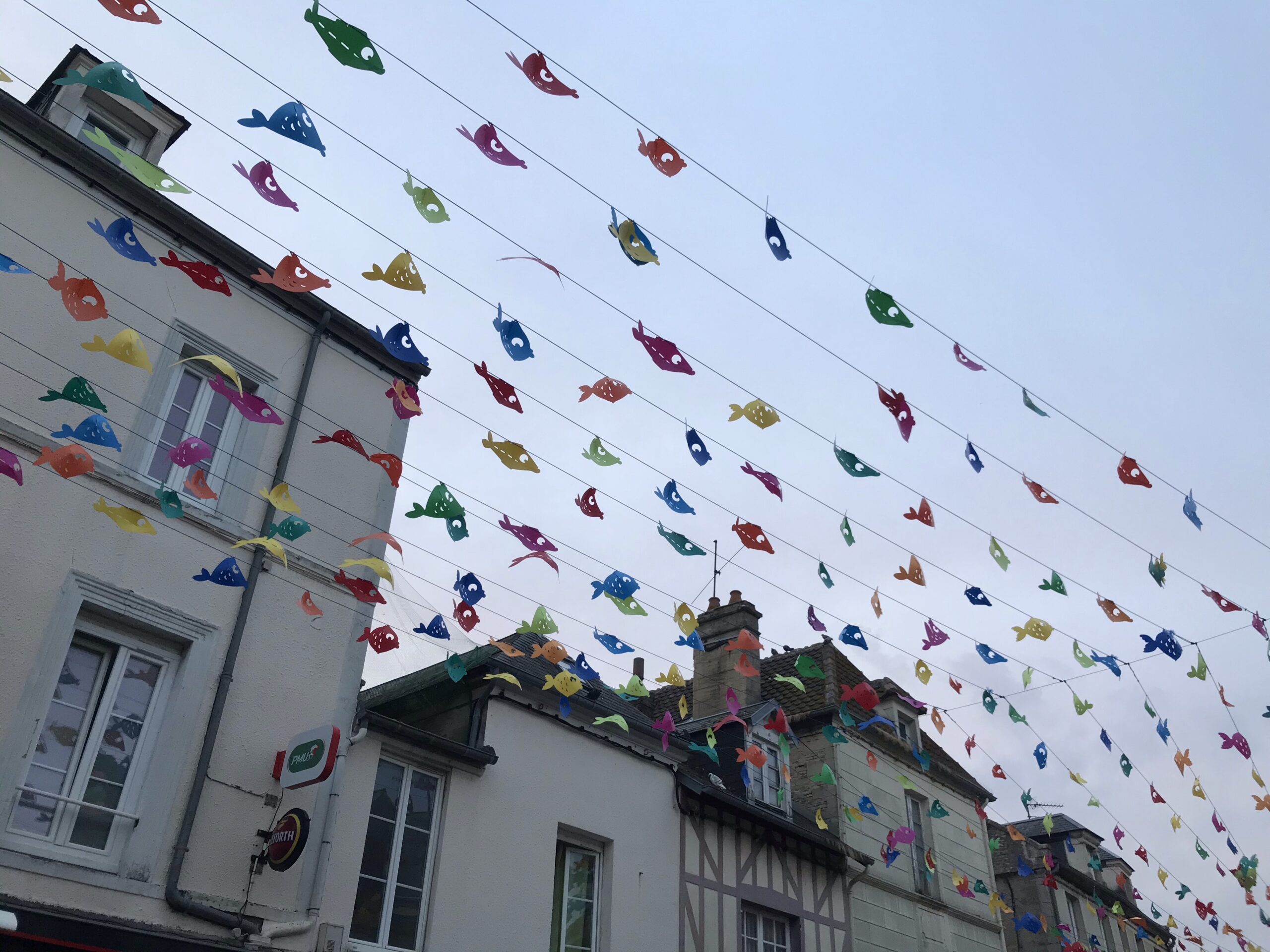 We cycled under a heroic motorway viaduct and then arrived by well appointed cycle path in the middle of town. We only had about 45 minutes to spend in town so we found a high point to hang out: in this case the castle right in the city centre.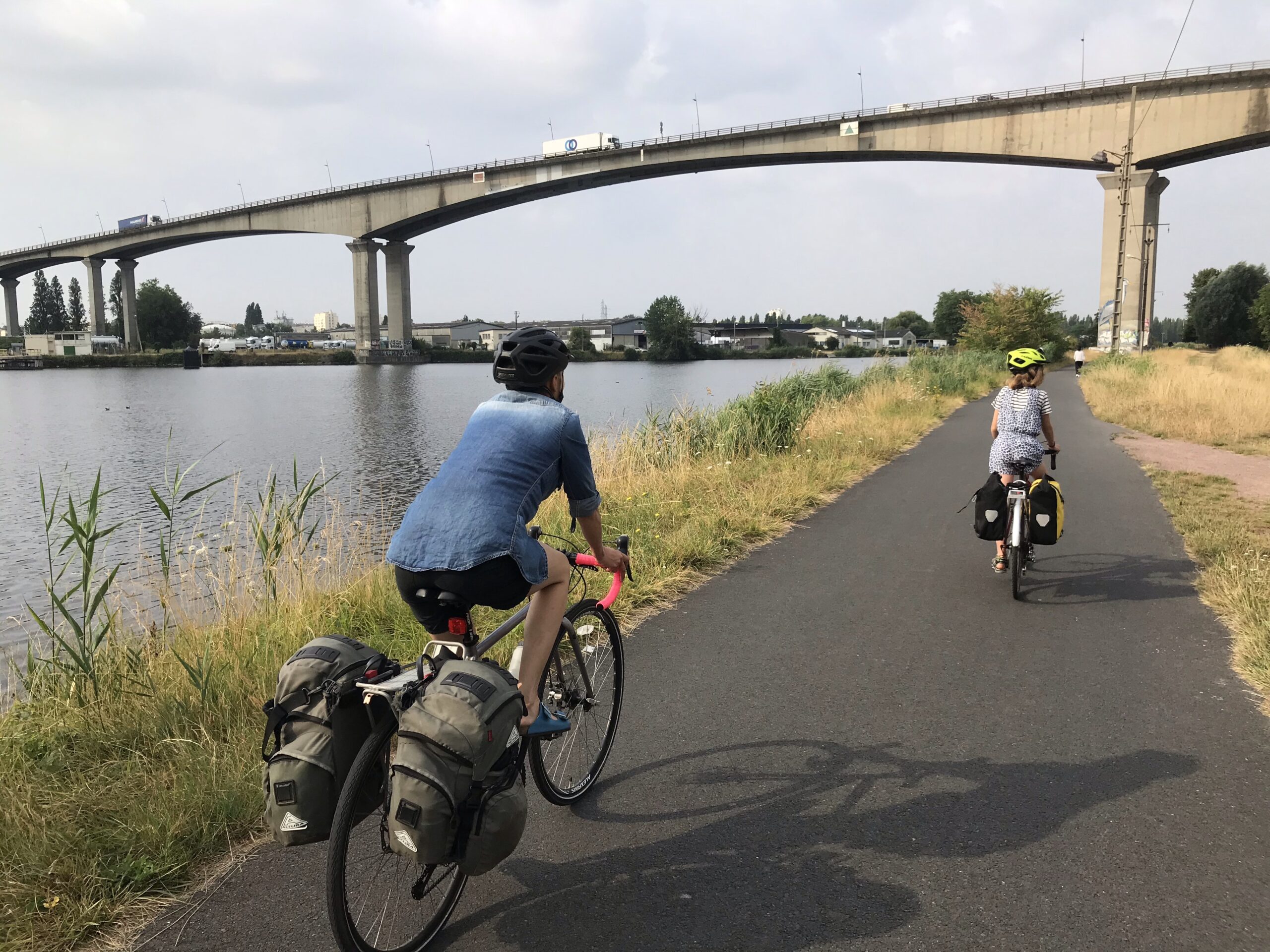 Other city centre castles I have enjoyed: Belgrade, Budapest, Blaye. I like when you can simply cycle up from the town below and straight into the gates.
Our train from Caen to Paris St Lazare was a squash and a squeeze with our bikes. The service has unreserved bike spaces, but these were full and the service busy. Lots of people boarding and getting off with luggage got stuck with us in the bottleneck of the doors. I ended up lifting my bike up on its rear wheel and squeezing on. Somehow I miraculously managed to balance it on a pile of panniers so that when I let go it stayed upright.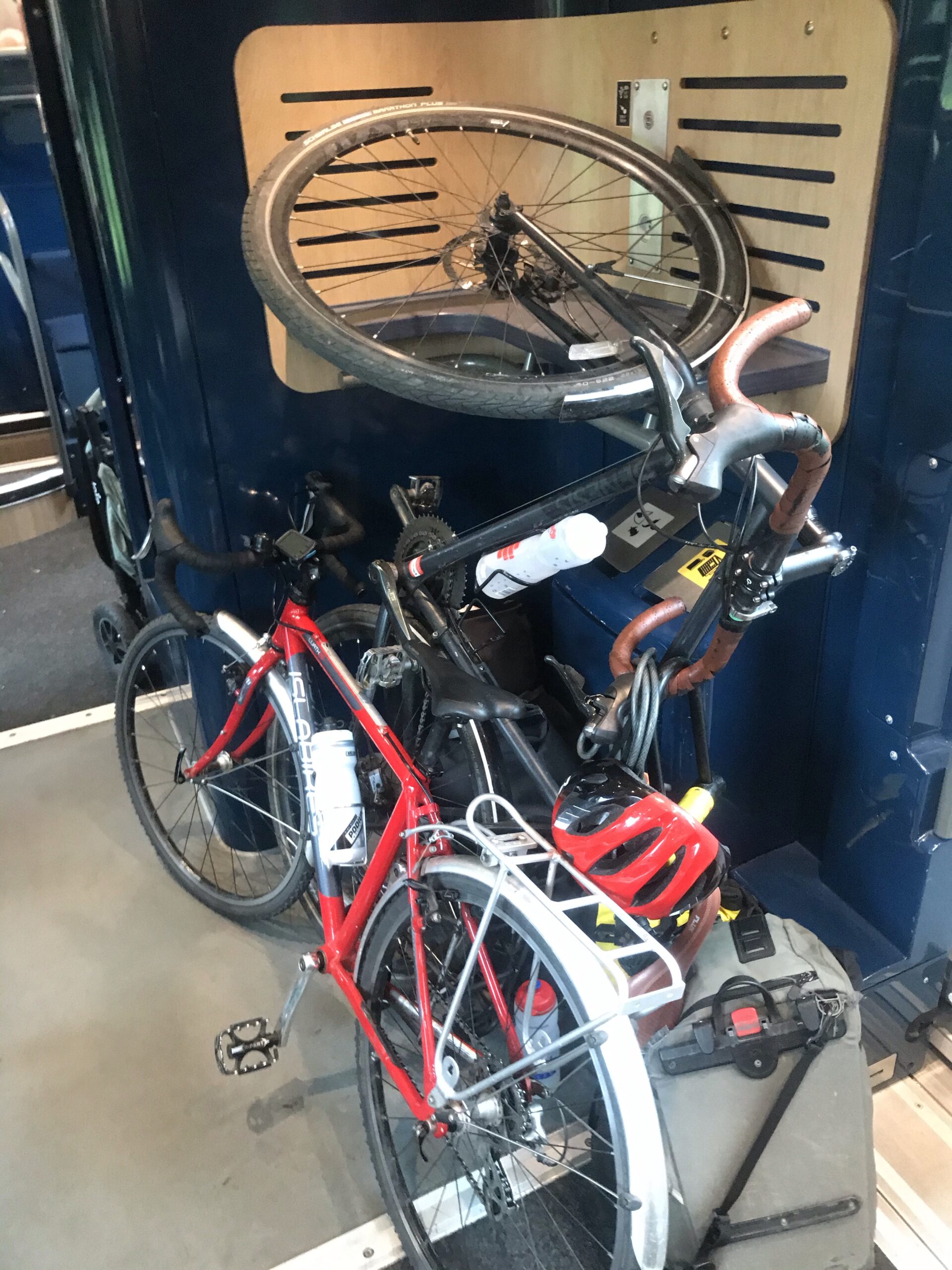 From Paris St Lazare to the 20th arrondissement we cycled the route of the Metro Line 2, following the cycle paths through the boulevards. This infrastructure went in when we lived here in 2006. Now it feels really hectic to use, with e-scooters, mopeds and delivery vehicles competing for space. As is offering the case though when I feel squashed using cycle infrastructure, I shouldn't bemoan the other users: they are doing the right thing and it's fewer cars that we need.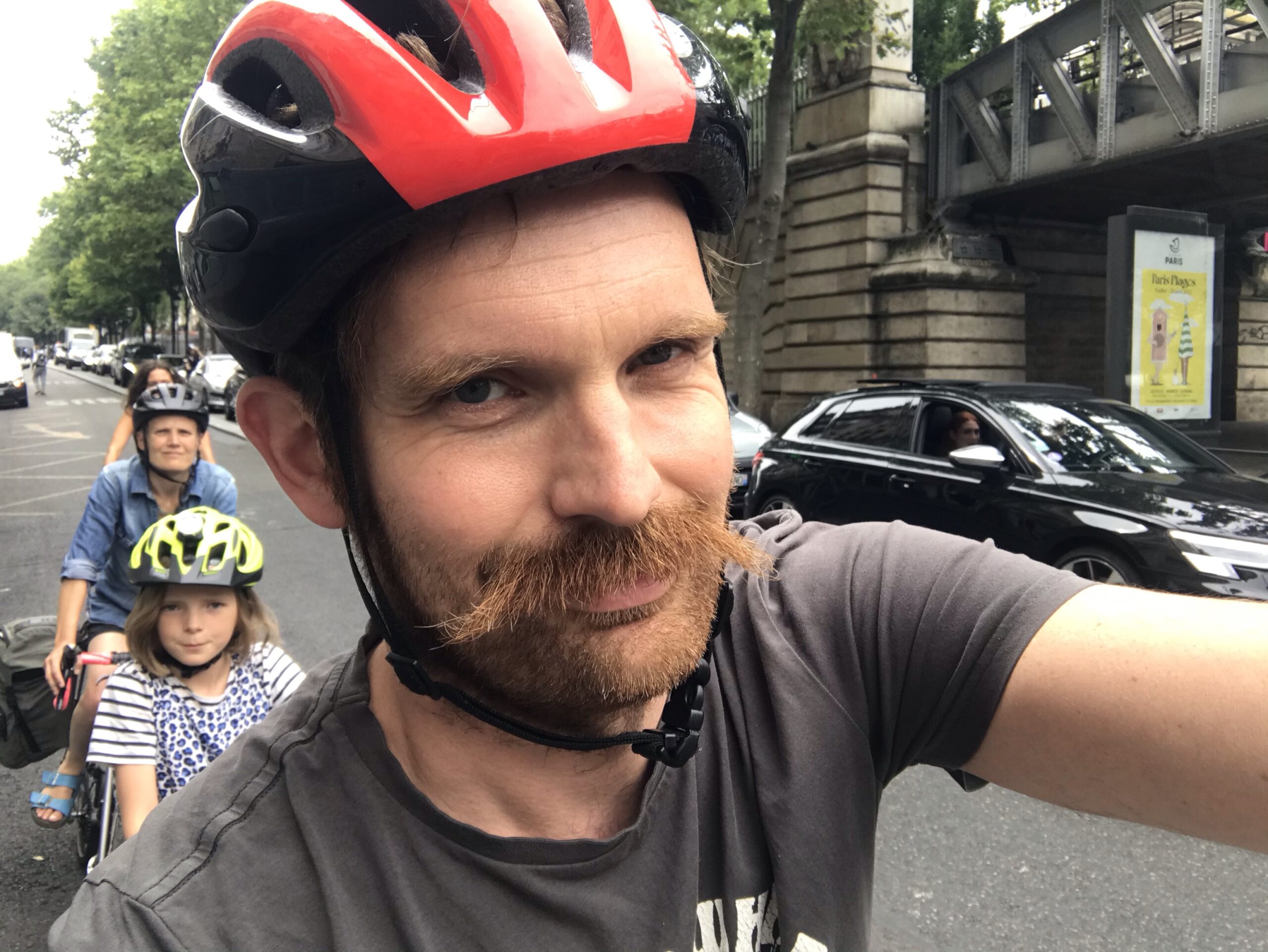 With all the alternative, shared transport infrastructure, I think Paris is now ready to ban cars altogether. Maybe with rising fuel costs and renewed focus on the climate crisis due to recent heat waves, banning cars in Paris might happen soon.
We finished the day with our friend and proprietor of our old local the Piston Pelican, Stéphane. The bar was closed but he welcomed us in for pizza and wine and an insight on what it's been like trying to run a Paris bar through Covid. We talked about the heat wave and the climate crisis, and what people in their position can do.
I told Steph that running a bar like theirs is an important thing to be doing in a time of crisis because it builds community cohesion and resilience. I'm not sure how reassuring that was though as my climate French vocab is a bit ropey: turns out I'd been referring to the climate crisis all evening as the 'central heating crisis'!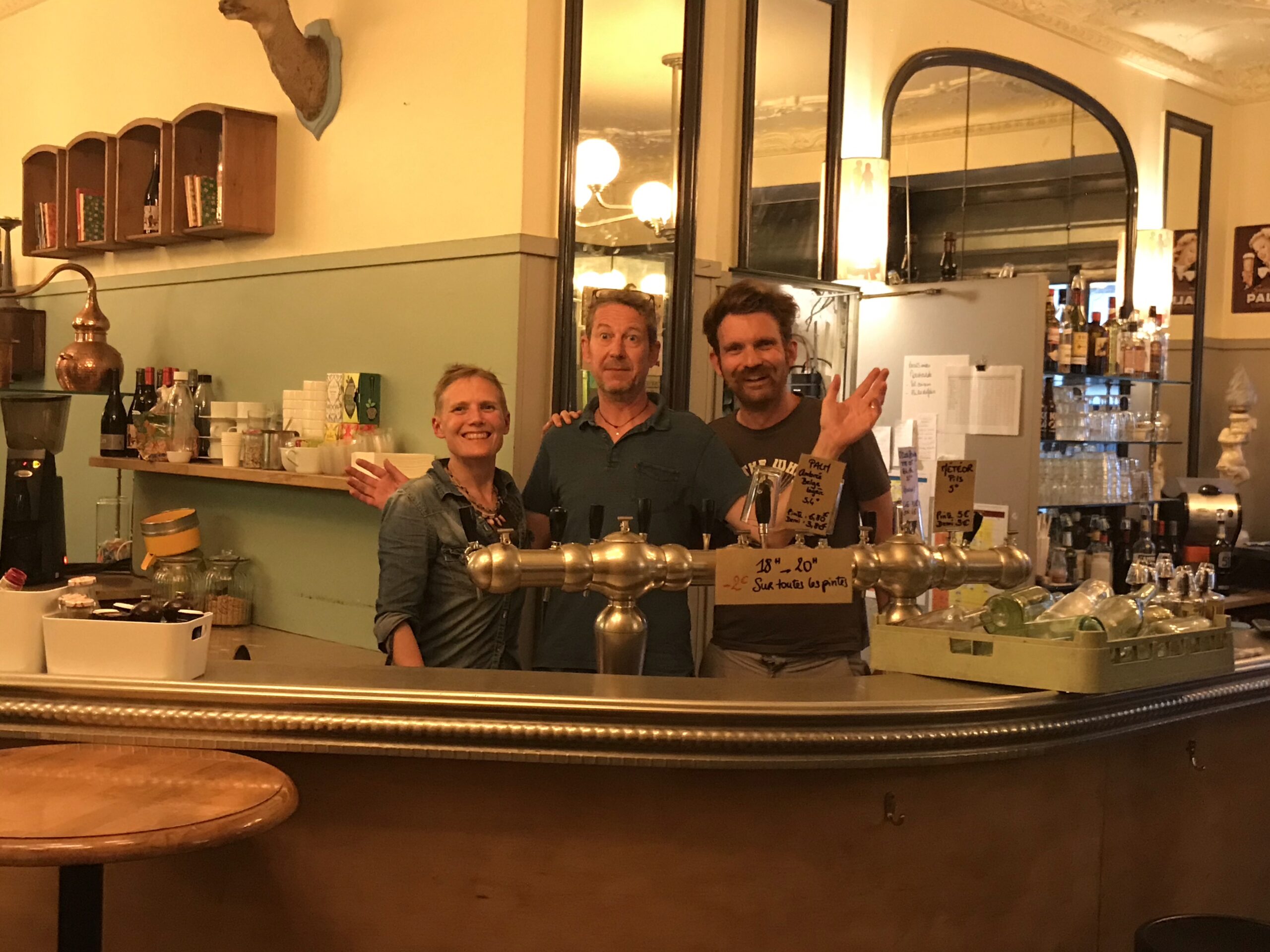 Mary Stéphane and me at the Piston Pelican