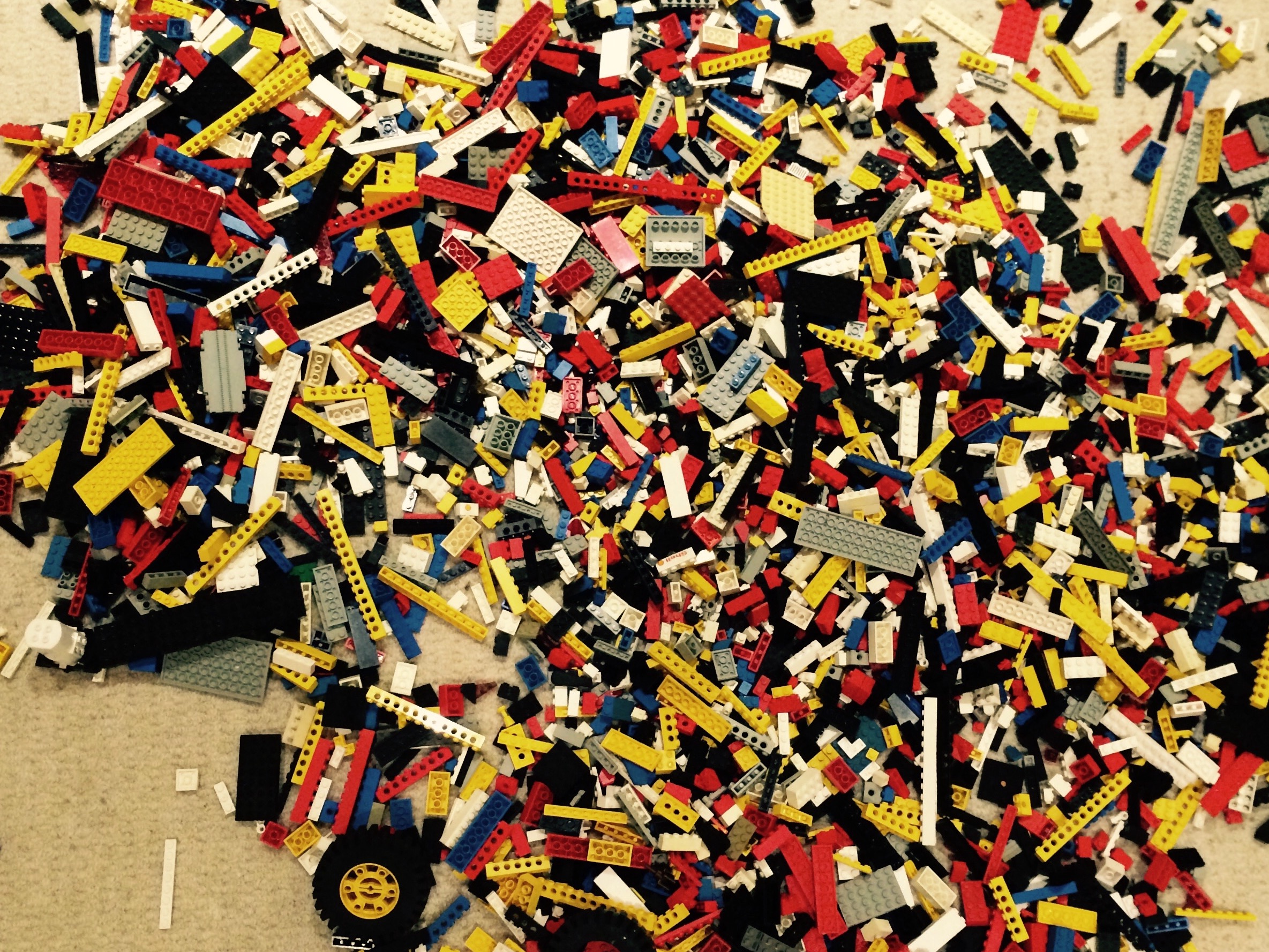 If you own a big pile of Lego, then sorting it into separate boxes for different sorts of parts makes it much quicker for you to build anything you want to. I have found that the creative potential my haul of lego is multiplied manyfold by the simple act of separating it out. All of a sudden, when I can see what types of pieces I have, the ideas flow much more quickly, and the time lag between having the idea, and it manifesting itself in physical form is much reduced.
The question is knowing where to start. There are so many types of pieces, it doesn't work to have a pot for every single type. I've probably completely sorted my Lego three times in my life (so far), and I think the categories that I have now are pretty effective. So to save you thre trouble, here they are.
Helpfully, since the first time I sorted  my Lego, the Internet has been invented, and so it is now much easier to find commonly agreed names for pieces. In the lists below I've included some links to to photos of the pieces that I am talking about. I've organised the following list according to the size of tub I needed for each part. It's the relative size that's important here.
8L tubs
Base plates
Lunar landscapes
Road pieces
Miscellaneous
Train buffers
Rigging
Pirate ship hull
Pirate ship sails
Pirate ship masts
Monorail track and pylons
Train track
4L tubs
These are your standard building bricks. You would think that the protypical lego brick would be the most common, but compared to other bits I have relatively few of these. 2 by X bricks (X>1)
Wheels and tyres
This is for wheels of all shapes and sizes, their tyres and the plates with axle stubs attached onto which little wheels and wagon wheels can be fixed. This is the biggest tub of all.
Large plates
For those large base plates that are at least 4×4
These are like beams. These are 1 bx X bricks where X>3, but with no side holes
Narrow long bricks with holes
As above but with holes in so you can push through axles.
Small bricks
This is probably the modal category of my lego bricks. You are much more likely to find one of these than a standard 2×2 brick. Includes:
1×1 bricks
1×2 bricks
1×3 bricks
I think of these as planks 2 x X where X>1
These are thin plates – 1x X where  X>3
2L tubs
Automotive paraphernalia
Specialist pieces for making cars, such as
Wheel guard
Chassis
Space paraphernalia
Pieces for making space rockets and space stations, such as
1L tubs
These are among the smallest pieces
1×1 plates
1×2 plates
1×3 plates
Slopes and arches
There are lots of variations of arches and slops, and the nomenclature can become a bit confusing.
Round bits
There is some ambiguity as to whether some of these pieces should really go under space paraphernalia.
1×1 cones
1×1 round brick
2×2 cone
1×1 round plates
2×2 round plates
2×2 round brick
antenna
2×2 curved brick
4x4x2 cone
Hinges
When I was a kid, hinges were my favourite part. Now I have a whole box full of them. They include:
People and their accessories
A box full of Lego people is always fun just to play with on its own. I throw in all the accessories too such as:
Shield
Spear
Sword
Cutlas
Lance
Torch
Knight's helmet flame
Musket
Pistol
Oar
Spanner
Hammer
Broom brush
Horse harness
Flag with 2 clips
Streamer (type of flag)
Barrels
Treasure chest
Treasure
Canon
Castle panel sides
Windows and doors
Includes hinges for windows and shutters too.
Town
Parts for building suburbia
Mailbox with door
2×4 winch
Street furniture
Car wash pieces
Long fencing
Petrol station parts
Emergency services parts
Roadworks parts
Flora and forna
Small tree
Conifer
Flowers and stem
Palm tree leaf
Sharks
Monkeys
0.5L tubs

Holders
Pieces for clipping things too, like personal accessories
2×3 curved plate with hole
1×1 plates with vertical clip
1×1 plate with horizontal clip
1×2 plate with vertical bar
1×2 tile with top bar
1×2 plate with handled bar
2×2 brick with ball joint
Wall elements
These are the pieces that make up the walls of castles and the sides of vans and trucks
Lattice fences
1x4x1 lattice fence
1x4x2 lattice fence
Lights
Transluscent pieces usually used for making headlights and tail lights
Light holders
1×1 brick with 1 side stud
1×1 plate with side ring
Small tiles
1×1 tiles
1×2 tiles
2×2 tiles
Long tiles
Angle plates
Turntables
2×2 turntable
4×4 turntable
Axles
Cross Axles
Threaded cross axles
Things that go on cross axles
Gears
Right angle axle connector
Collars
Pins
Half pin
Grey pin
Black pin