Today engineers completed work on a major new irrigation channel to bring drinking water to a major new coastal development on Sand Bay, near Weston-Super-Mare. The 60-metre-long new canal brings water that rises from the coarse sand at the back of the beach across the inter-tidal zone to the new fortified town, which looks north-westwards across the Bristol Channel towards Cardiff.
In a bold vision, the water supply has two functions: potable water supply for the imaginary people living in the turret in the middle of the island; and also to ensure the defensive moat is always full. Anglo-French design and build contractors Eiffelover and Co. have a long track record in delivering civil and environmental projects in coastal settings.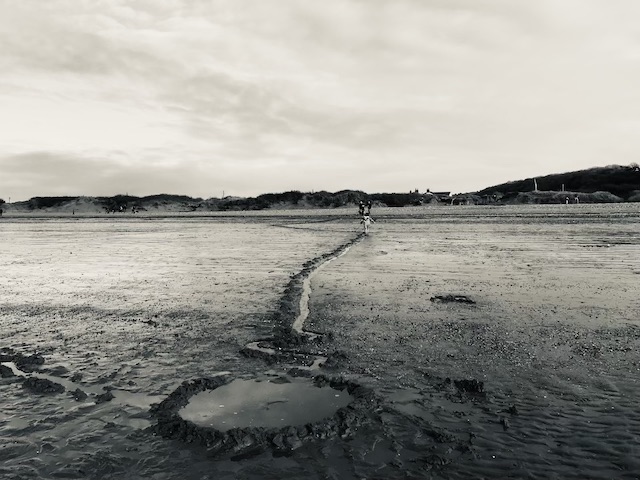 The design includes an upstream overflow channel, which prevents the waters overtopping the moat and causing catastrophic failure. The chief civil engineer on the project is especially pleased with the inclusion of a series of chicanes at the end of the channel that dissipate some of the energy in the flow, thereby preventing damage to the walls of the moat.
A number of challenges had to be overcome. Failure to divert the coastal path during works meant that dog walkers accidentally trod in the channel, disrupting earlier works. Also, at times, the workforce struggled to maintain focus, preferring instead to splash around in the moat. Attempts to keep the workforce engaged by getting them to focus on the overall aims of the project failed. In the end, senior management had to take a more hands-on role in completing the works.
Sustainability is at the heart of this project. All materials are natural, locally sourced and can be returned to the point of origin at the end of the project. The construction team also took home a disused take-away tub that they found during excavation works.